Redmi Note 12 Turbo / Poco F5 Review
Introduction
Poco's F-series has a history of disrupting the flagship market. This year, the lineup splits into the budget-friendly F5 and the higher-tier F5 Pro. Surprisingly, the F5 is drawing more attention than its Pro counterpart due to its compelling features. While both phones hold their ground, the F5 seems to cater to a broader audience.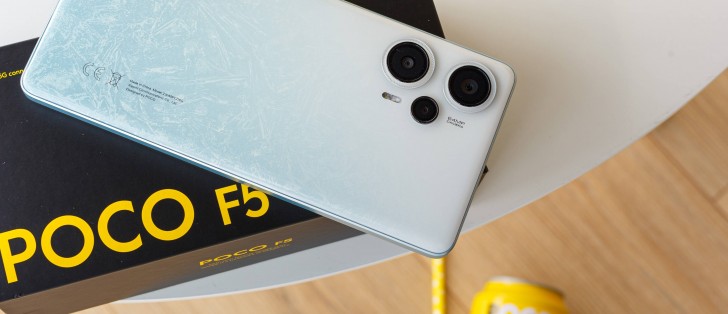 Our curiosity led us to conduct an in-depth, long-term review of the Poco F5. It's important to note that this device is essentially the Redmi Note 12 Turbo in certain regions, although we'll primarily refer to it as the Poco F5 throughout this review.
A key highlight is the debut of the Snapdragon 7+ Gen 2 SoC in the F5, offering flagship-like performance without the usual high price. This could be a game-changer in the mid-range market. Our assessment explores whether this device lives up to the excitement it has generated, especially considering recent Redmi Note models' failure to deliver a similar well-rounded package at an affordable price, unlike their predecessors.
Join us in the following pages as we dive into our comprehensive subjective testing and share our experience with the Poco F5 / Redmi Note 12 Turbo.
Design and Handling
Unlike typical flagship devices that often blend in, the Poco F5 breaks the mold with its striking front appearance, primarily due to its bezels. Nearly symmetrical, these bezels create an impression of high-end aesthetics uncommon in mid-range Android phones. This design feature makes the F5 easily mistaken for a pricier device, a rarity in today's market.
Despite its plastic frame, the F5 exudes a premium feel akin to an iPhone, resonating positively with consumers beyond just smartphone enthusiasts. The seamless screen-to-frame transition, providing a smooth tactile experience, was a feature Apple adopted months later for its Pro models.
Navigating gestures on the F5 feels exceptional, rivaling the smoothness associated with curved screens. Holding the phone also surprises with its ability to stand upright on both ends.
The tactile sensation, despite the matte plastic finish, isn't excessively slippery, ensuring comfortable handling for users with average or larger hands. However, one-handed use might be challenging for those with smaller hands, a common drawback for most contemporary phones.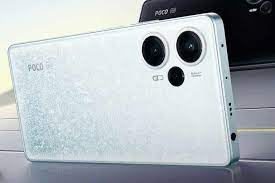 The back design, especially in the "white" color variant, boasts captivating patterns reminiscent of ice or snow, earning admiration from onlookers. The camera islands, encased in rings, contribute significantly to the phone's aesthetics. While the design might not suit everyone, the black variant offers a more conventional look, with the rings around the cameras being subtler.
The camera arrangement, featuring three circular islands, contrasts the trend of massive camera islands in higher-end models. Depending on perspective, this arrangement may evoke a 'robot face' impression in landscape mode.
The build quality remains impeccable, with the F5 incorporating subtle nuances that make it stand out and foster daily appreciation for its design intricacies, albeit not in an overt manner.
Vibration Motor
The vibration motor in this device is an area where cost-cutting measures are apparent. It falls short of the standards typically associated with Xiaomi/Poco/Redmi at this price range and aligns more with what some competitors offer. Despite its presence, the vibrations lack depth and robustness, being faint and almost imperceptible even at the highest setting on the "Haptic feedback level" slider.
This motor's performance might remind some of the vibration motors in the Redmi numbered series, but it's disappointing, particularly considering the usual commitment to high-quality motors by Xiaomi and its sub-brands. Unfortunately, this isn't one of those cases.
Speakers
The stereo speakers on the Poco F5 perform adequately without standing out for exceptional quality. They tend to emphasize higher frequencies, occasionally exhibiting a slightly tinny sound compared to pricier flagship devices. Bass feels minimal, but considering the substantial price difference, this performance is commendable.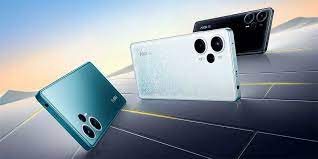 In terms of volume, they operate slightly lower compared to top-tier speakers in flagship smartphones, but given the price gap, this is acceptable. While in quieter environments, bringing the phone closer to your ears might be necessary compared to higher-priced handsets, it's not a significant downside.
We understand that achieving competitive pricing involves trade-offs. However, most users are likely to find the speakers satisfactory, especially when compared side-by-side with other devices. The speakers, composed of outlets in both the earpiece and the top frame, result in some sound 'leakage' during calls but contribute to a fuller sound experience during media playback or speakerphone use.
Biometrics
The Poco F5 features a top-tier side-mounted fingerprint scanner within the power button, boasting remarkable speed and accuracy. In our extensive use, it unlocked the phone successfully in about 98% to 99% of attempts, showcasing exceptional performance without causing any frustration.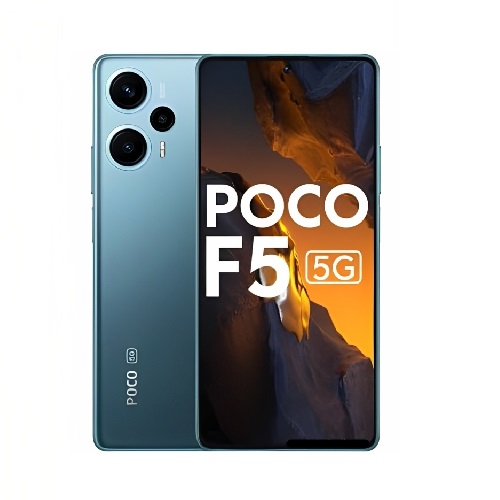 During fingerprint enrollment, covering as much of your finger's surface area as possible is recommended to ensure consistent contact with the slim sensor. You can opt to unlock the device with either a touch or a press of the power button, with the latter being our preference to avoid inadvertent unlocks.
Facial recognition, available but less secure than fingerprint authentication, relies solely on the front camera. Despite a warning about reduced security, the feature prevents unlocking if your eyes are closed, enhancing security while asleep. However, past demonstrations have shown face unlocking working with a picture, indicating a potential security vulnerability to consider.
Brightness
The Poco F5 features a 6.67-inch AMOLED screen, offering decent brightness suitable for most scenarios. While it might not be the brightest display available, it maintains ample visibility even on sunny days, though outdoor use might lack the ease of indoor viewing.
Testing revealed a peak brightness of 963 nits in Auto mode, surpassing last year's Poco F4 GT and outperforming the Nothing Phone (1) by about a third. However, at the lowest brightness setting in dark environments, the screen might still feel slightly too bright, lacking the "Extra dim" feature found in some Android phones.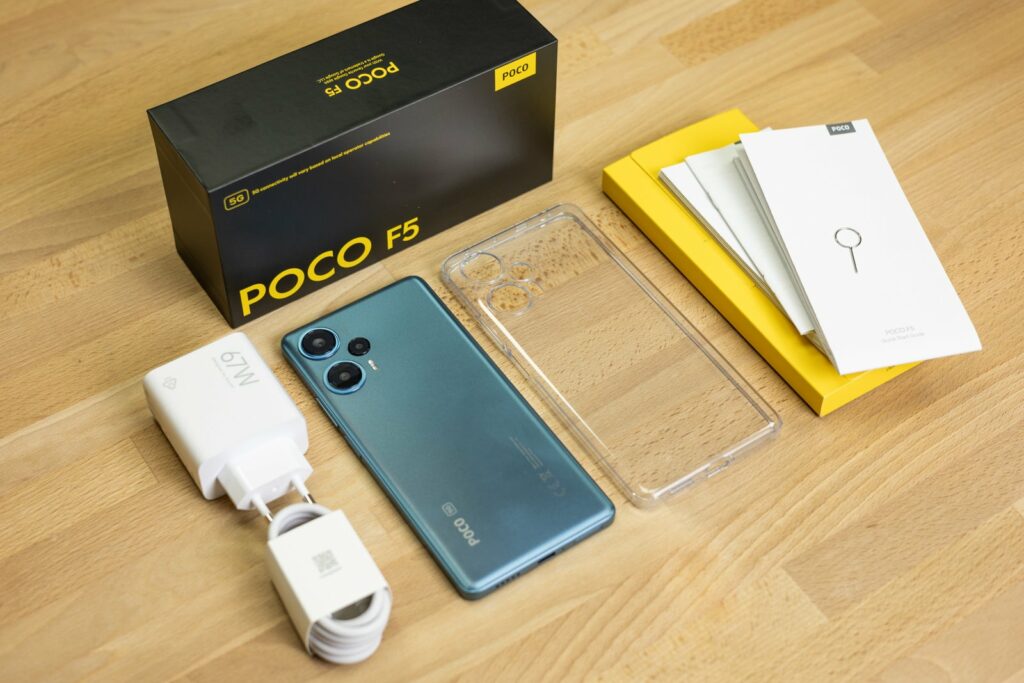 Using dark mode at night helps alleviate brightness issues, but white backgrounds, like on webpages, might strain the eyes. The phone's auto-brightness algorithm works exceptionally well, minimizing the need for manual adjustments across varying ambient lighting conditions.
In contrast to some recent phones with frustrating manual adjustments, the Poco F5 stands out for its effective auto-brightness algorithm, even surpassing more expensive models. This aspect sets a commendable standard, making the phone's display one of the best encountered in the past year.
Screen Quality and Colors
The Poco F5's display impresses with exceptional quality, making it challenging to notice any drawbacks unless compared directly with flagship screens. This achievement is particularly noteworthy considering the price difference.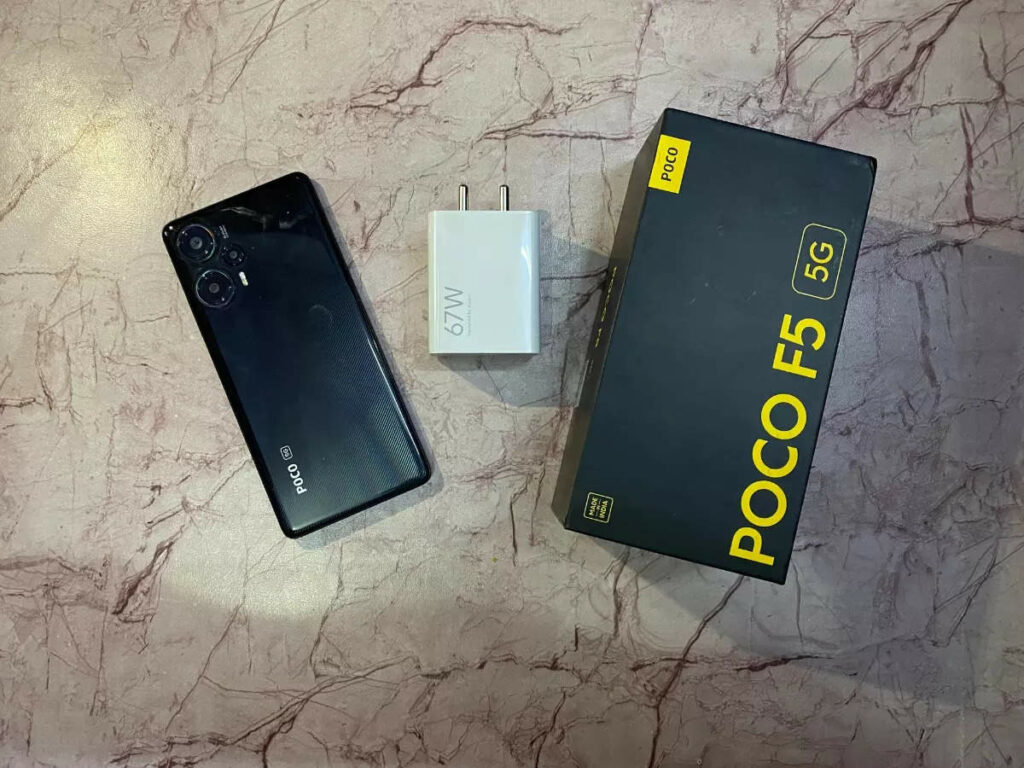 In the Standard color scheme, colors are precisely tuned to match the sRGB color space. While other options exist, like the Vivid mode, they tend to be less accurate, often leaning towards excessively blue-toned whites.
Advanced settings allow fine adjustments for red, green, blue levels, and more. However, for most web content optimized for sRGB, the Standard mode ensures consistent and accurate colors without much consideration. Alternatively, Vivid or Saturated modes may appeal to those less concerned about color accuracy, with the Warm color temperature preset helping balance out bluish whites in these modes.
Refresh Rate
The Poco F5 meets the current 120 Hz refresh rate standard effortlessly. By selecting the "Custom" 120 Hz setting in the Settings, we ensured optimal performance for our testing, favoring devices operating at their best, especially regarding refresh rates that significantly affect smoothness.
However, despite designating 120 Hz, the display doesn't consistently operate at this rate, switching to 60 Hz during video playback or when the screen is idle. While not intricate, this system effectively serves its purpose and notably contributes to the device's impressive battery life, as highlighted in this review.
Reading Mode and Always-On Display
The Poco F5 integrates MIUI's Reading mode, a robust blue light filter with a variety of options. Classic mode functions like typical filters with adjustable intensity, while Paper mode introduces a unique textured effect and desaturated colors, providing choices for those seeking less screen allure.
The flexibility in options might not suit everyone, but the customization available is commendable. Scheduling for automatic activation at sunset and deactivation at sunrise or a custom interval is also possible.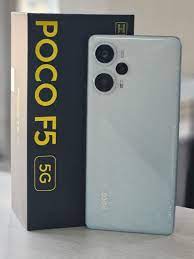 However, the Always-On display on the Poco F5 disappoints as it's active for only 10 seconds after a screen tap, not truly "Always-On" as expected. This falls short of delivering a continuously visible display, which many users prefer. This limitation seems related to preserving battery life, but the lack of a genuine "always-on" option and unclear software design choices are puzzling.
Despite this, the Always-On display offers extensive customization features, including custom images, various clock options, and text, catering to diverse preferences.
Performance
The Poco F5 is powered by Qualcomm's Snapdragon 7+ Gen 2, a chipset that pleasantly surprises with its performance, almost reaching flagship levels in over 90% of everyday usage scenarios. However, it may experience occasional slowdowns during tasks involving Play Store updates or handling multiple resource-heavy apps simultaneously, though this doesn't significantly impact overall performance.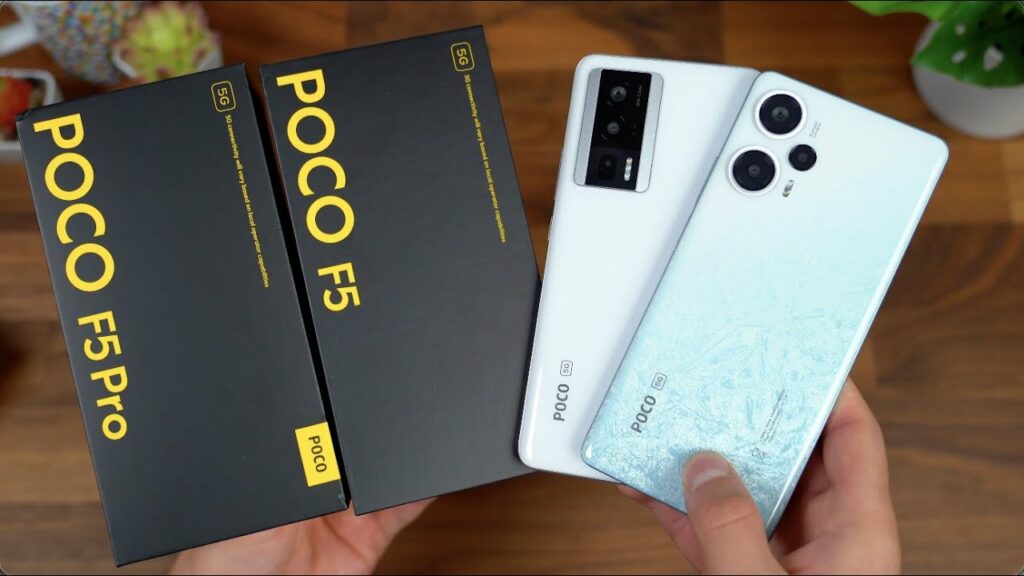 For non-gaming usage, the Poco F5 matches handsets equipped with Snapdragon 8 series chips, showcasing impressive performance given its price. While not entirely on par with flagship smoothness, it stands out as the smoothest phone with a non-flagship chipset, achieving about 90% of flagship performance at a much lower cost.
Redmi and Poco's choice of this chipset suits the device exceptionally well, delivering strong performance for most users' needs. Unless you heavily multitask or focus on gaming, the device's performance is unlikely to disappoint.
Battery
Regrettably, MIUI 14 on the Poco F5 lacks a screen-on time metric from 100%, a feature previously available in earlier MIUI versions and common in most interfaces. Its inexplicable removal puzzles us, as it would substantiate the device's exceptional battery life—a consistent trait across Xiaomi's product range.
The Poco F5 impresses with its excellent battery life, typically lasting a full day in our usage scenarios. We rarely needed a midday recharge, with the battery retaining around 30% by day's end. On one intensive usage day, it dropped to 20% due to extensive mobile data usage and GPS navigation.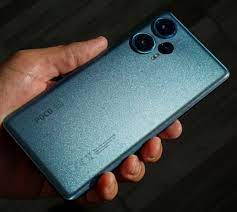 Our typical usage spanned 12-16 hours, including Wi-Fi 6 connectivity, 5G data, GPS navigation, Bluetooth, and podcast listening. The default "5G battery saver" setting remained active, but we consistently experienced 5G connectivity. For most users, the device should easily last a full day, barring heavy reliance on weak mobile data signals.
Charging speed is impressive, supporting a maximum 67W rate, reaching a full charge in about 47 minutes. A 30-minute charge gets you to 83%, offering swift charging that should satisfy most users, especially those transitioning from midrange Samsung or Pixel A series devices.
While lacking wireless charging, the F5's impressive wired charging speed seems a fair trade-off, ensuring a rapid refuel without compromising other aspects of the device.
Update and Bugs
The Poco F5 currently runs MIUI 14 on Android 13, with uncertainty regarding an Android 14 upgrade's arrival. Xiaomi, including its sub-brands, isn't renowned for swift software updates, a factor less critical due to MIUI's distinct design, often omitting Google's UI improvements.
While a swift update approach like Samsung's recent Android 13 rollout might be commendable, it's unlikely for Xiaomi, Poco, and Redmi. Expectations for an Android 14 update on the Poco F5 might arrive as MIUI 15, considering the rebranding to HyperOS in China, whose impact on international devices remains uncertain.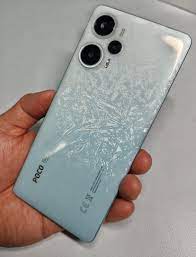 At the time of review, the Poco F5 operated on the September 2023 security patch, with an anticipated update to the November patch later. Xiaomi's update frequency, though improved, remains notably distant from Samsung and Google's practices, leaving room for enhancement.
For users valuing prompt security patches or immediate access to new Android versions, other brands might be more suitable. However, if a slower update schedule is acceptable, the Poco F5 might suffice, especially considering its price.
One noticeable bug on the Poco F5 concerns the malfunction of the Do Not Disturb mode, where notifications persistently override user preferences, rendering the mode ineffective. This bug seems to persist across MIUI 14 devices, despite repeated highlighting, posing an inconvenience for users reliant on scheduling.
Another persistent bug involves the Wi-Fi calling Quick Settings toggle, consistently appearing as the first option after network changes, requiring user intervention to resolve. These minor glitches across various Xiaomi/Poco/Redmi devices running MIUI 14 raise concerns about delayed fixes despite their prolonged existence.
Launcher
MIUI 14 maintains a familiar appearance, similar to its predecessors MIUI 13 and MIUI 12, hinting at marginal changes in the upcoming HyperOS transition, as leaked screenshots suggest. The persistent design similarity across MIUI versions might echo iOS's consistent look, appealing to users accustomed to stability.
While MIUI's design continuity may seem stagnant to frequent phone users, some might appreciate the consistent appearance across versions. Xiaomi's software team seems aligned with this approach.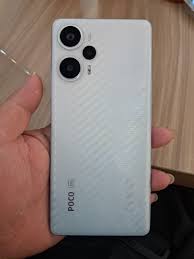 Regarding the launcher, it has remained largely unchanged, operating smoothly. However, there's a crucial setting to note: the default "Place new apps on the home screen" option, if left enabled, might clutter your home screens with all restored apps, requiring prompt deactivation in the app drawer settings.
The launcher offers features like Xiaomi's App vault or Google's Discover feed on the leftmost home screen and allows customization of icon sizes and app categorization in the drawer. Users can also adjust animation speeds to their preference, with 'Fast' being our recommended setting.
Recents and Control Center
The Recents view on the Poco F5 defaults to a vertical two-column layout, but users have the choice to switch to a horizontal format, aligning it with most non-Xiaomi smartphones. While we prefer the horizontal layout, the traditional vertical option remains available for those who prefer it.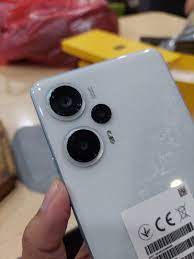 The Control Center, reminiscent of Apple's feature, separates Quick Settings from notifications into a distinct panel. Swiping down from the top right accesses the Control Center, while swiping down from the top left reveals notifications.
Though initially exploring the Control Center, we found accessing notifications became more cumbersome, prompting us to return to the standard Android layout, where Quick Settings icons are integrated with notifications. However, if the Apple-style presentation is more appealing, that option is also available for users to toggle.
Dark Mode and Gestures
The Dark mode on the Poco F5 provides a single dark level, featuring schedule-enabled activation at sunset or customized hours. It can also enforce itself on apps without a dark mode, easily toggled in settings. To enforce Dark mode on specific apps, accessing the "More Dark mode options" lists recent apps for convenient adjustments.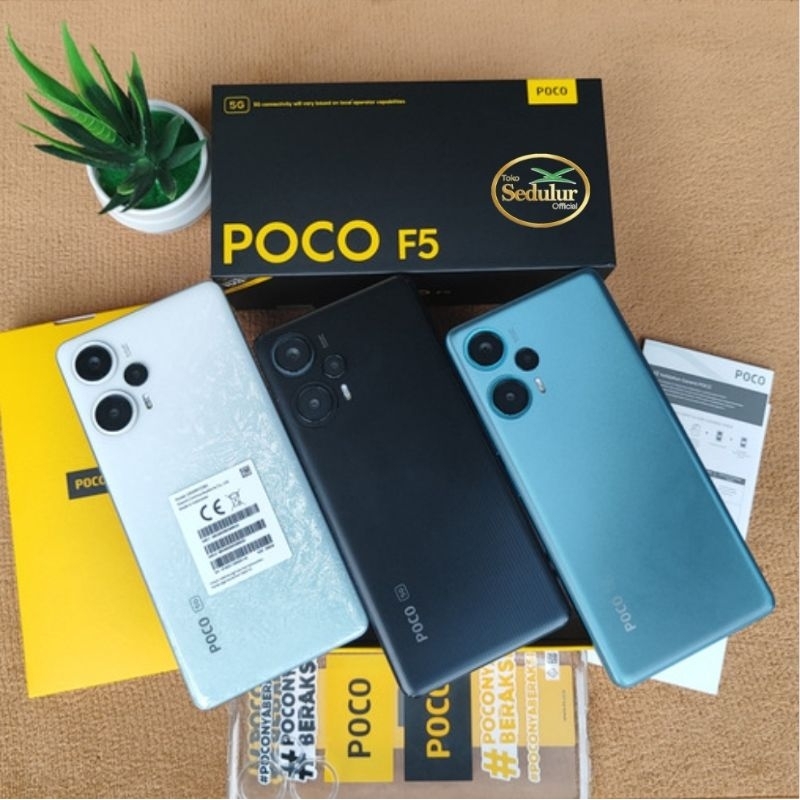 Enabling "Adjust wallpaper to Dark mode" and "Adjust texts and backgrounds automatically" can enhance nighttime visibility by modifying contrast, texts, and backgrounds for better comfort in low light. These settings offer customizable adjustments for nighttime use.
Gesture navigation on the Poco F5 works seamlessly, with the ability to hide the bottom pill bar, although disabling it removes the swipe gesture for quick app switching. While this might impact users who frequently use the swipe gesture, the absence of this feature doesn't pose significant issues with the overall gesture navigation, functioning smoothly without glitches.
Camera Analysis
Poco's F-series prioritizes performance over camera excellence, a trend reflected in the F5's camera system. It maintains an 8 MP ultrawide lens alongside a 64 MP primary shooter equipped with Optical Image Stabilization (OIS), a rare feature in this price range. However, the 2 MP macro camera is limited in usability due to its resolution and less accessible Macro mode.
In daylight, the main camera impresses with detailed images, excellent dynamic range, and accurate colors, although grass might appear overly green. Surprisingly, it produces improved shots compared to the previous F4 model, possibly due to refined algorithms.
However, the ultrawide lens falls short, lacking detail and sharpness, offering decent but unremarkable results with a warmer tone and fair contrast.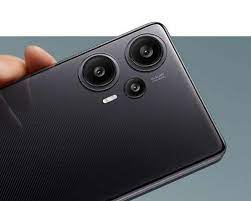 Zoom shots maintain good detail but exhibit a slight dip in overall quality compared to standard shots. In low-light conditions, Auto Night Mode on the main camera captures detailed shots with minimal noise, while the manual Night Mode enhances colors but compromises detail.
Unfortunately, the ultrawide camera's night performance disappoints, often resulting in blurry and unusable shots even with Night Mode.
Daylight selfies offer satisfactory detail and sharpness, while nighttime selfies heavily rely on screen flash, often yielding subpar results without ample surrounding light.
Overall, the primary camera performs well in daylight and reasonably at night, but the ultrawide lens and selfies struggle, especially in low-light scenarios. The ultrawide lens quality at this price point raises concerns, and improving the selfie camera could benefit users in the current selfie-centric culture.
Conclusion
In conclusion, the Poco F5 is also called Redmi Note 12 Turbo is a balanced mid-range smartphone offering impressive performance, a decent camera setup, and an array of features at a competitive price. Powered by the Snapdragon 7+ Gen 2 chipset, its performance is nearly flagship-grade, handling tasks with ease and offering a smooth user experience. The device's display quality, although vibrant and accurate in the standard color scheme, presents varied options with less color accuracy in other modes.
With a reliable battery life that easily lasts a full day, quick charging at 67W, and an efficient Dark Mode, the F5 caters well to daily usage. However, software quirks like the inconsistent Always-on display and delayed updates can be areas of improvement. The camera setup delivers good results during the day but falls short in low-light scenarios, particularly with the ultrawide lens.
Overall, the Poco F5 presents a compelling package, excelling in performance and daily usability, albeit with some room for enhancement in the camera department and software experience. For users seeking a robust mid-range device without breaking the bank, the F5 stands as a commendable choice.
Published on 11/20/23 7:37 | by Rawa John